De Busstop
De concurenten van 007 BOND.
En de Flashback
Discotheek SNOEPYS
Hee Hoo in de SKIHUT.
Feesten in DE KOETS.
MALLEMOLEN met maf personeel.
Swingen met de jongens en meiden van DE SWING
Lekker ff eten bij de HEINEKENHOEK
Of lekker Hollands bij BRUINTJE BEER.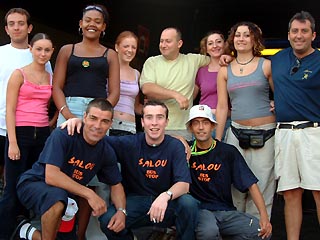 The BUSSTOP-CREW
The 007BOND-crew.
En de FLASHBACK posse.
Met zijn vele personeel.
Met de SKIHUT de winter door.
Met de KOETSIE'S
En mafkezen van de NIGHTFEVER.
Of met de loco's van KOKOS BEACH BAR.
Waar dit zooitje je eten komt brengen.
BRUINTJE BEER en zijn vrienden